If you visit any coffee shop, you're more than likely to find Mocha iced coffee on the menu. Loved by many coffee drinkers, this delicious style of beverage consists of coffee, foamy milk, and other ingredients.
There are many reasons why people love Mocha Iced Coffee. Apart from having an interesting flavor, the beverage is easy to make at home.
Do you want to know everything about Mocha? Well, this post will teach you about the drink and how to make mocha iced coffee.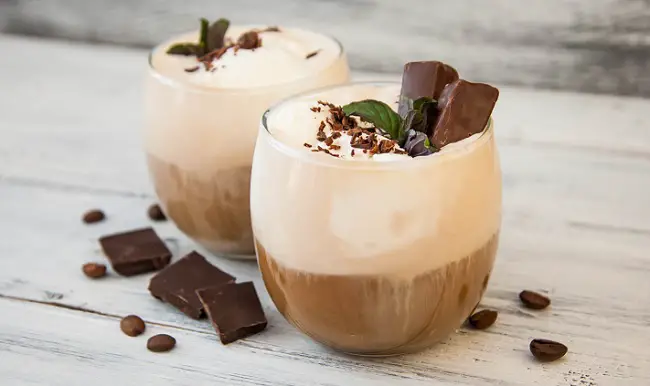 What is Mocha Iced Coffee?
Mocha Iced Coffee is a coffee beverage that includes chocolate, milk, and cream. You can also describe it as coffee chocolate. It is usually served cold in glass cups.
The first types of chocolate coffee were served in 16th century Europe.
After hundreds of years, the drink has become one of the most enjoyed beverages in different coffee shops across the world.
Types of Mocha Coffee
There are different types of Iced Mocha Coffee. Although they look similar, they have varying flavors and other features.
Here are some of the several types of Mocha.
Mixed mocha: Instead of using a single type of chocolate, Mixed Mocha has dark and white chocolate.
Iced mocha frappe: This type of Iced Mocha Coffee is one of the popular drinks sold by many restaurants. It contains chocolate syrup, coffee, and whipped cream. Moreover, it has more sugar than the original Mocha Iced Coffee.
Iced Mexican mocha: This type of chocolate coffee is spicy. Apart from using the traditional Mocha ingredients, Iced Mexican Mocha has a dash of pepper sauce.
Aztec iced mocha coffee: This drink combines maple syrup, chocolate, and coffee to make a unique tasting beverage.
Vegan iced mocha: The Vegan Iced Mocha is a perfect drink that does not include any synthetic ingredients. Instead, it is made with natural products such as almond or hazelnut milk.
How to Make Regular Mocha Iced Coffee
This is the traditional style of mocha iced coffee. It is also called a chocolate cafe.
Items Needed
Cold Coffee
Unsweetened Cocoa Powder
Milk
Granulated Sugar
Chocolate Syrup
Heavy Cream
Whipped Cream
Saucepan
Mason Cup or any glass cup
The Steps
1. Prepare the Chocolate Sauce
Bring out the pot and add two teaspoons each of the cocoa powder and sugar. Then add some milk to the mixture.
Turn on the stove and set it to medium heat. Place the pot on the stove and stir the whisk the chocolate mixture until it starts to boil. As it boils, continue to whisk the chocolate mixture until you have a smooth sauce.
2. Add in the Coffee
After getting the chocolate sauce, remove the saucepan from the stove. Then, add some cold coffee, more milk, and sugar to the saucepan.
3. Serve the Coffee
Take a mason cup and pour in some ice. Next, pour the coffee-chocolate mixture into the cup and serve. If you have a sweet tooth, add some chocolate syrup or whipped cream as toppings.
How to Make Iced Mocha Coffee with a Blender
If you are in a hurry, this method is better because it is fast and does not require any brewing.
Items Needed
Cold Coffee
Sweetened Milk
Cold Water
Unsweetened Cocoa Powder
Ice Cubes
The Steps
Take out a blender and add the cocoa powder, coffee, and ice.
Grind the ingredients until the ice is reduced to tiny pieces. Then pour in some condensed milk and water.
Continue blending the mixture until it looks smooth. Serve in a mason cup or glass cup.
How to Make Iced Mexican Mocha
Iced Mexican Mocha is another great way to drink coffee. Since it uses pepper, it is ideal for lovers of spicy beverages.
Items Needed
Cold Brew Concentrate
Chocolate Syrup
Pepper Sauce ( preferably chili sauce)
Four ounces Whole Milk
Ice Cubes
Glass Cup
The Steps
Add the milk, chocolate syrup, and hot sauce to a glass cup. Stir until the mixture is very smooth.
Whip out another glass cup and add some ice. Pour some coffee concentrate over the cubes. Then add the chocolate sauce and stir. Serve in glass cups.
How to Make Vegan Mocha Iced Coffee
Vegan Mocha Iced Coffee is a healthy beverage. Like most of the mocha-based beverages on our list, this type of coffee is also easy to make.
Items Needed
Medjool Dates
Cocoa Powder
Almond milk, hazelnut milk, or soya
Expresso
The Steps
Add all the ingredients into the blender. Blend until all the date turns into tiny pieces. Pour the mixture into a cup filled with ice and serve.
How to Make Aztec Iced Mocha
Aztec iced mocha is another spicy way to enjoy iced Mocha coffee. However, it uses loads of natural ingredients.
Items Needed
Unsweetened cocoa powder
Pure Maple Syrup
Ground Cinnamon
Cayenne Pepper
Expresso
Soy Milk
Bowl
Ice Cubes
The Steps
1. Prepare the Chocolate Mixture
Get a bowl and pour in one-half teaspoon of cocoa powder, three tablespoons of pure maple syrup, and 1/8 teaspoon each of cayenne pepper and cinnamon.
Mix vigorously until you have a perfect blend of the ingredients
2. Prepare the Coffee
Add two shots of espresso into the chocolate mixture and stir.
Take out a glass cup and throw in some ice cubes. Pour in the spicy chocolate coffee sauce into the glass. Finish by adding almond, hazelnut, coconut, or soya milk.
How to Make Cold Coffee for Iced Mocha
Most iced mocha recipes cannot be made without adding cold coffee. Although you can use regular coffee, it would help if you knew how to make a cold brew for the Mocha. There are two ways to make this important ingredient.
You can place hot coffee in a large cup and store it in the fridge for 15 minutes.
You can also prepare a coffee brew and allow ice to melt in it. Besides, you can freeze the liquid into ice cubes and save them for future cups of coffee.
Additional Tips for Making Mocha Iced Tea
Even if making Mocha Iced Coffee is easy, you might end up making minor mistakes. But if you use these tips, you will end up with a perfect cup of iced Mocha coffee.
Use the best coffee
Before you can enjoy a good cup of coffee, try using the best coffee brands. If you use these products, you will get the best flavor.
Experiment with several sauces
Make your iced mocha coffee interesting by using different types of sauces. Popular options include white chocolate or vanilla.
Health Benefits of Iced Mocha Iced Coffee
Since Iced Mocha consists of cold brew, it offers tons of benefits to everyone. However, it is recommended that you consume the drink moderately and without excess sweeteners.
Now here are some of the gains of adding Iced Mocha Iced Coffee to your diet.
Improves Your Mood
According to experts, caffeine can enhance the mood of adults. Furthermore, it works best for individuals that can't sleep properly. Also, the substance can improve their brain functions.
Protects Your Stomach
Since regular coffee has high acidity, it causes indigestion and bloating in some people. But iced mocha coffee has less acidic levels which makes it ideal for everyone.
Prevents Heart Disease
Mocha coffee can also cut down your chances of having heart disease. When taken, the beverage supplies caffeine and other compounds that can make your heart healthy.
Helps for Weight Loss
Like most coffee beverages, a healthy cup of Iced Mocha coffee can make you lose weight. After all, the drink boosts the metabolism of the body and results in the loss of extra calories.
Can Anyone Drink Iced Mocha Coffee?
Healthy Iced Mocha Coffee is a great way to pass the day. However, it might not be suitable for people who have high blood pressure. Also, it is not supposed to be taken in large quantities by nursing mothers or pregnant women.
Wrapping Up
Mocha Iced Coffee is a combination of coffee and cocoa. It was first discovered in the 16th century and is loved for its delicious flavor.
It comes in various forms such as Vegan Iced Mocha Coffee, Mexican Iced Mocha coffee, and lots more.
Iced Mocha is loaded with many be benefits. For instance, it can cut down your risks of heart disease. Also, it is linked with reducing bad moods and improving your general health.