Since 2020, Cloud coffee has become one of the most popular drinks on the internet, suddenly becoming the subject of countless social media discussions.
Also described as a reverse cappuccino, cloud coffee is widely loved for its frothy top and milky bottom picture. Besides, it has a uniquely interesting flavor.
Anyone can make cloud coffee. Even if it looks different from other beverages, it is easy to prepare and does not require much time.
I will show you how to make a cup of cloud coffee. But first, let's learn more about this interesting beverage.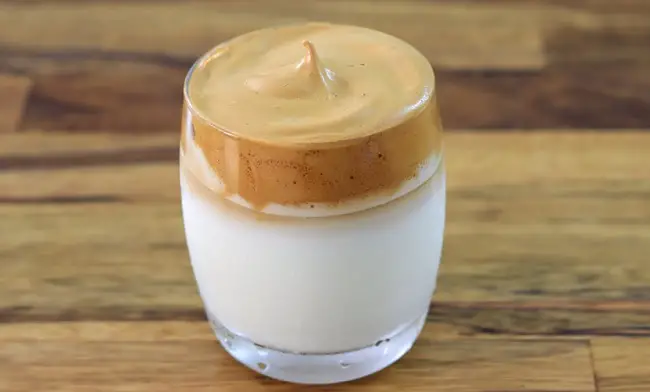 What is Cloud Coffee?
Cloud coffee is a coffee-based beverage made from several ingredients including coffee, sugar, and milk. Aside from being known as cloud coffee, this drink has other names, which include beaten coffee, frothy coffee, and dalgona coffee.
Cloud Coffee became popular after it was featured on a Korean TV show in 2020. Within a short time, it became one of the most talked-about drinks on Tiktok, Instagram, and Youtube.
Types of Cloud Coffee
Even if Cloud Coffee looks like a new creation, there are several variations of the beverage. Here are some of the interesting types of cloud coffee that we could find.
1. Coconut Cloud Coffee
Infused with nuts and rum, this type of cloud coffee is sweet and has a tropical vibe. It is also a great way to enjoy a hot afternoon.
2. Vegan Cloud Coffee
This beverage shares the same features as cloud coffee. However, it swaps regular milk for plant-based milk. With this in mind, it is a healthy way to enjoy coffee.
3. Strawberry Cloud Coffee
The Strawberry Cloud Coffee consists of traditional cloud coffee and fresh strawberries.
4. Mocha Cloud Coffee
This beverage is made from coffee and cocoa powder. As expected, it is one of the sweetest types of cloud coffee.
5. Matcha Dalgona/ Cloud Coffee
Another healthy way to enjoy coffee, this green drink contains matcha and coffee.
6. Low Caffeine Cloud Coffee
Unlike regular cloud coffee, this beverage does not contain much caffeine. Besides, you might swap the coffee brew ingredient for extra cocoa powder or sugar.
How to Make Cloud Coffee
As mentioned earlier, Cloud Coffee is one of the easiest drinks that you can prepare in your home. Besides, it can be made within minutes.
Things You'd Need
Coffee
Milk
Hot Water
Granulated Sugar
Vanilla extract
Hazel Nut Extract
Tall Glass/Mason Jar
Small Whisk
The Steps
1. Prepare the Whipped Coffee
Take out a mason jar and pour in two tablespoons of coffee and sugar. You should also add a teaspoon each of cinnamon, hazelnut extract. Complete the mixture with two tablespoons of hot water and a pinch of salt.
Stir the mixture until the sugar disappears. Then take a fork and whisk the combo until it becomes foamy. If you have a small whisk, you can abandon the fork and stick with this tool.
2. Prepare the Cloud Coffee
Take another glass cup and pour heated milk into it. Add some of the whisked coffee mixtures to the milk and stir until it meets your taste.
How to Make Iced Cloud Coffee
Iced cloud coffee is the colder version of traditional cloud coffee. It even uses the same ingredients as the former. However, the ice cloud beverage is served with ice-cubes
Things You'd Need
Coffee
Milk
Hot Water
Granulated Sugar
Vanilla extract
Hazel Nut Extract
Tall Glass/Mason Jar
Small Whisk
The Steps
1. Make the Whisked Coffee Top
Combine the ingredients as if you want to make a traditional cloud. Stir and whisk until you have a foamy blend of the coffee, sugar, and other ingredients.
2. Make the Iced Cloud Coffee
Add some ice cubes into a fresh cup. Pour some of the foamy coffee mixture into the cup. Serve and enjoy.
How to Make Coconut Cloud Coffee
Things You'd Need
Flaked Coconut
Well-chopped almond
Strong Coffee Brew
Toasted Coconut
Whipped Cream
Imitation Rum Extract
Saucepan
The Steps
Add milk and coconut into a saucepan. Scald over medium-low heat and don't allow the coconut-milk combo to boil.
When the saucepan produces steam, pour the coffee mixture into an electric blender. Set the machine at high speed and grind the mixture until it is smooth. Then, strain to remove any dense particles
Using the same saucepan, add in the hot coffee and the filtered milk. Heat the mixture until it reaches the scalding point. Then remove the saucepan from the stove and add the rum extract.
Serve the cloud coffee into cups. Top off the coffee with whipped cream, toasted almonds, and coconut.
How to Make Vegan Cloud Coffee
Things You'd Need
Instant Coffee
Unsweetened oat or soy milk
Hot water
Iced Cubes
Serving glass or jar
Hand Mixer
Spoon
Measuring spoons
Medium Bowl
The Steps
1. Prepare the Foamy Top
Add two tablespoons each of coffee, sugar, and water into the bowl. Grab a hand mixer and stir the ingredients until they form a thick, golden foam with a slight peak.
2. Prepare the Icy Bottom
Add some ice cubes and the oat/almond milk into a tall glass cup. Next, add some of the whipped coffee to the top of the milk and mix.
3. Add Some Toppings
If you want to make the cloud coffee look stunning, it would help if you added some delicious toppings like chocolate powder or drizzle. You can even break your favorite cookies and sprinkle them on the coffee foam.
How to Make Strawberry Cloud Coffee
Before you can get the best strawberry cloud coffee, ensure that you use fresh and ripe strawberries. Also, stick with sweet fruits.
Things You'd Need
Instant Coffee
Sugar
Milk
Ice Cubes
Strawberry Pieces
Hot Water
The Steps
1. Make the Foamy Coffee
Put a tablespoon each of sugar and coffee into a small bowl. Add a little water and stir until you have a foamy mixture.
2. Prepare the Strawberry Bottom
Put crushed or diced strawberry pieces into the tall glass cup. Also, add the cold milk and ice to the bottom of the glass. Round by pouring some of the coffee foam on the milk.
How to Make Mocha Cloud Coffee
Mocha cloud coffee contains equal parts of cocoa and coffee. Like most of the coffees on our list, it is quite easy to make.
Things You'd Need
2 tablespoons of Instant Coffee
Regular Milk or Plant-Based Milk
2 tablespoons of Sugar
2 tablespoons of Unsweetened Cocoa Powder
Hot Water
Mason Jar
Hand Mixer
The Steps
1. Make the Chocolate Coffee  Cloud
Place all the ingredients into a jar and mix with the electric mixer. Continue mixing until you have a foamy coffee mixture with a peak.
2. Add the Cloud to the Milky Bottom
Pour cold or heated milk into another jar. Then, add the chocolatey coffee cloud.
How to Matcha Cloud Coffee
Although it is described as a type of cloud coffee, it does not contain instant coffee. Instead, it uses matcha tea powder that turns the drink green.
Things You'd Need
Aquafaba: A thick liquid that comes from lentils. You can get a jar from online and offline stores.
Culinary- Grade Matcha Powder
Sugar
Hand mixer
The Steps
1. Whisk the Aquafaba
Pour the aquafaba into a bowl. Then, pick a hand mixer and whisk until the liquid becomes stiff and frothy.
As you whisk, pour in the sugar. Continue whisking until the aquafaba becomes thick and peaked.
2. Add the Matcha
Place some matcha into a filter and shake the powder into the whisked aquafaba. Mix the aquafaba and the matcha until both ingredients are well-mixed.
3. Mix the Aquafaba and Matcha
Pour some milk into a cup. Scoop some whisked matcha on top of the milk.
Want Low-caffeine Cloud Caffeine?
If you want to reduce the amount of caffeine in your cloud coffee, you can add more sugar or cocoa powder. For instance, if you have 2 teaspoons of coffee in your cloud coffee, consider adding 5 tablespoons of cocoa powder or sugar.
Then, use the steps for making traditional cloud coffee to prepare the low caffeine version.
Health Benefits of Cloud Coffee
If you take any of the healthy types of cloud coffee, you will enjoy loads of benefits. However, it is advised that you consume the beverage in moderate doses.
Keeps Your Heart Healthy
The caffeine in cloud coffee can protect your heart from several diseases. According to a study, the compound raises blood pressure which makes the heart-healthy.
Protects Your Skin
Caffeine can also protect your skin from cancer. Also, it creates a natural barrier against sun damage and enhances your blood flow.
Fights Against Diabetes
Consuming cups of coffee can reduce the chances of developing diabetes. However, this benefit depends on the person that consumes the beverage.
Lifts Your Mood
Caffeine might play a vital role in reducing the chances of experiencing depression. It even helps with other brain functions.
Improves Your Physical Performance
Apart from keeping you free from various illnesses, caffeine can enhance your performance, especially during physical activities.
Wrapping  Up
Cloud Coffee is a popular coffee drink that has a milky bottom and foamy top. Since it was featured on a TV show, it became one of the most loved drinks on social media.
There are several types of cloud coffee. However, all of them are easy to prepare.
To prepare any type of cloud coffee, you will have to prepare a whisked coffee mixture and pour it over the iced or heated milk.
Like any coffee drink, this beverage offers many health benefits. But, it is advised that you consume the drink in moderate doses.